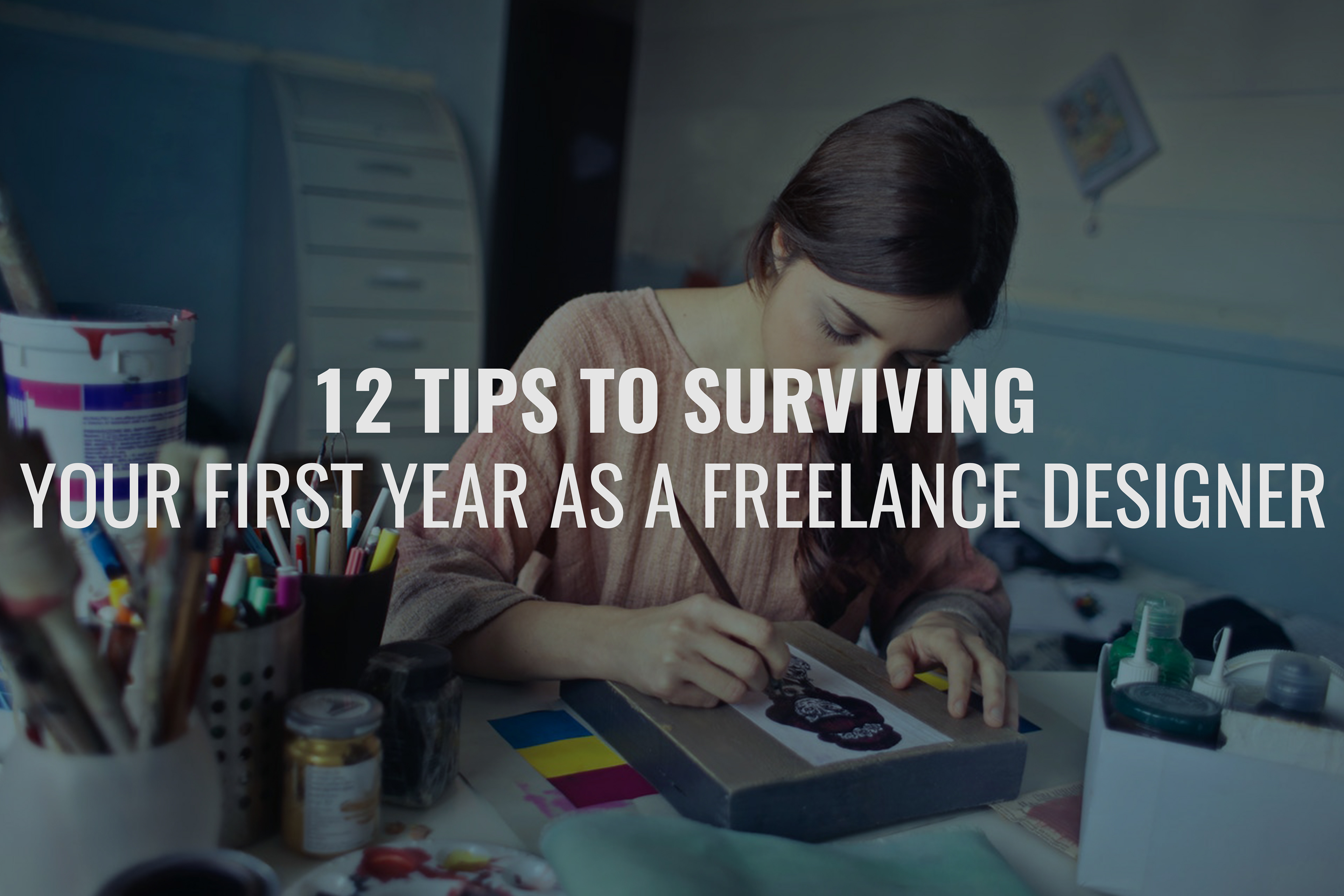 12 TIPS TO SURVIVING YOUR FIRST YEAR AS A FREELANCE DESIGNER
Embarking on a career as a freelance designer is exciting and filled with possibilities. However, it's also quite scary for most people. You may be leaving a job with a steady paycheck and benefits for the uncertainty of freelance work. Where will the money come from to pay bills, buy groceries and maybe even save a little for retirement?
There are around 
266,300 graphic design jobs in the United States
. Not only will you compete with some of those freelancers, but designers around the world via sites that offer services at cut rates. If you want to not only survive but thrive in your new career working for yourself and designing for others, you must figure out some survival tips to get you through. Here are 12 tips to get you started.
1. HAVE SIX MONTHS OF SAVINGS
In the early days of your business, cash flow will come in bursts and trickles more than a steady stream. There will be times when you wonder how you'll pay the bills. It's vital that you have as much of your everyday living expenses and business operating costs saved as possible before you embark on your freelance journey. About 
29 percent of small businesses fail
 because they ran out of money, so having a buffer may save you from the same fate.
2. WRITE OUT A BUSINESS PLAN
It may seem like overkill to spend time on a full business plan if you're simply working as a freelancer. Isn't that something you only need if you're taking out a loan from a bank? Not necessarily — a business plan gives you some clarity on where you'd like to go in the next six months, year, five years and even 10 years. You'll also delve into the 
structure of your company
, so you're ready to hit the ground running if you have a sudden growth spurt. You'll also lay out a marketing plan for how you'll attract new clients.
3. IDENTIFY YOUR COMPETITORS
Create a plan for growth by 
mapping out who your competitors are
, where they're located and what they do better than you. Each designer has some areas where they specialize, so look at companies offering similar services to. A map of each competitor lets you see who they serve and if these are potential places you could reach or if you should locate your services in a less-crowded area.
Spend time studying each competitor in depth. Look at their website statistics through sites such as SEMRush. Take a look at their social media presence. Make notes on the work they list on their websites and what types of companies they work with. Al this information should direct you to which markets in your area are underserved and might need your services.
4. HONE YOUR SKILLS
If you want to succeed as a freelance designer, you must 
hone your skills
 until they are excellent. You're competing with many other freelancers and some of the slick design agencies out there. You must produce high-quality work on a fast timetable if you want to keep the business that comes your way and gather new leads and referrals from your initial customers.
Add some additional skills, such as UX design or coding. Spend time taking new classes online or attending graphic design conferences so you know the latest trends and constantly learn new techniques.
5. UNDERSTAND TAXES
You are now self-employed, which means you're responsible for paying your own taxes. The taxes will also be a bit more than if you were working for a company. When you work for an employer, they pay a small portion of your taxes, but now you're responsible for it all. It isn't significantly more, but it can add up depending upon what you make.
Spend time talking to a tax professional and reading up on what expenses you can deduct, what records you should keep and how to reduce your tax burden. Make sure you pay your quarterly taxes on time so you don't incur penalties.
6. HIRING HELP IS CHALLENGING
It isn't easy to find good help these days. The job market is competitive, and you can't exactly offer a big benefits package. In a survey of U.S. small-business owners, about 
25 percent state that finding quality labor
 is their No. 1 problem. One thing you can do is farm out small tasks to a virtual assistant. Hire someone to answer emails or save files to a safe place. Look to any local colleges and universities. Students often need intern positions or part-time jobs and may appreciate learning the ropes from you as they earn a little extra cash.
7. FORM A MARKETING PLAN
As an entrepreneur, you're the boss, the skilled worker and the marketing department. At first, you'll do it all — and it's a bit of a juggling act. Don't forget about marketing your business, or you'll soon run out of work. There are many ways to do this, so come up with a plan — but don't be afraid to change anything that doesn't work.
Start by getting on some of the freelance sites where you might connect with brands and gain regular clients. Go to the local chamber of commerce meetings and connect with business owners. Advertise on LinkedIn or Facebook.
8. WATCH YOUR HEALTH
You're going to work long hours and grab food on the go. However, if you don't focus on your health and take a little downtime, you will wind up sick. There's nothing worse than working through an illness because you have a deadline to meet for a client. You can reduce your number of sick days by eating well, getting some fresh air, exercising and keeping stress at a minimum.
9. BRAND YOURSELF
Establishing yourself as a brand takes time, but there are some things you can do in this first year that will help you succeed in this endeavor. First, choose a name for your business that 
defines what you do
and perhaps why you do it. Keep it short and memorable. It's perfectly fine to use your last name and the words "graphic design." You don't have to get cutesy here.
Second, develop a logo and a brand color palette. Once you have these elements in place, start using them everywhere — business cards, website, social media and even emails sent to potential clients.
10. KEEP CAREFUL RECORDS
It's easy to get so busy with work that you don't keep careful records of who has paid you, who owes you money or how much you've brought in for tax time. Either take an online accounting course or invest in software to track all this.
In addition to keeping track of cash flow, you should keep careful client records. When you touch base with Bob, the local appliance store owner, you want to remember that he has a specific mission for his business and work that into any pitches you send his way.
Records give you a chance to look back at income and expenses and figure out what needs changing for the second year of business. The more detailed your data, the better your adjustments will be.
11. TAKE EVERY JOB — AT FIRST
At first, go ahead and take on all the jobs that come your way. You'll learn from each experience. It will also keep money flowing through your business. You may even want to sign up for some of the lower-paying online freelance jobsites such as Fiverr and Upwork. However, as time goes on and you develop experience and a client base, start culling the list of clients down to the ones who pay you well and whose work you enjoy.
One thing you can do is to take stock every three to six months. Look at each client, how difficult they are to work with and please — this is where your notes come in handy — and how much they pay. Cut out the bottom few and replace them with new clients. Over time, you'll develop a base you enjoy working with, pays well and is not difficult.
12. GATHER A SUPPORT SYSTEM
Even if you believe in your skills, freelancing is a challenge for most people. Clients sometimes don't like the work you do for them, or you may feel lonely and isolated without co-workers. Figure out who your support system is ahead of time. If you're trying to work from home and raise children, you may need to bring in a part-time nanny to watch the kids during the day. Feel alone? Find small-business owners in your area and form a lunch group.
The support you need is going to be unique to your personality and living situation. Figure out what areas are potential stumbling blocks and what type of support you might need.

LEARN FROM YOUR MISTAKES
During your first year in business, you'll make mistakes. If you can learn from each experience, improve your services and be upfront with your clients, then you'll grow and advance in your work and eventually become even better at what you do. Take notes if you need to on the things you should improve as you go along. Your first year is going to be both scary and exciting, but you'll come out on the other side a better designer and more balanced person.