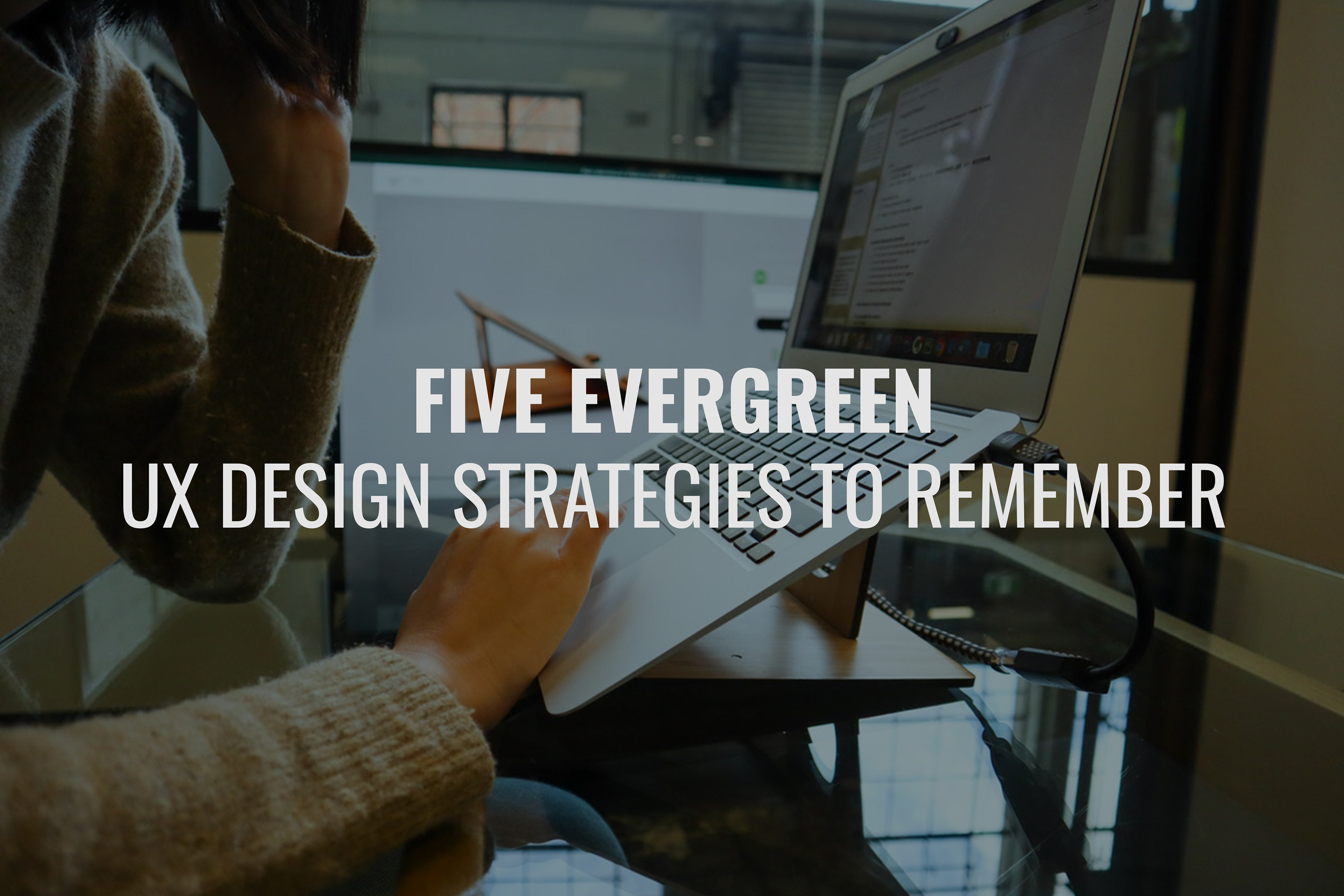 FIVE EVERGREEN UX DESIGN STRATEGIES TO REMEMBER
When it comes to user experience (UX), there are many different elements from the most basic of the looks of a site to the more advanced features and how they meet user expectations. There are some UX design strategies that bear repeating no matter how technology changes or how users access the Internet.
Investing in 
UX increases conversion rates
 as much as 400 percent. Anything you can do to make a visit to your site more positive and keep users there ups the odds that they'll turn from browsers into customers. Good UX takes into account the goals for your page and how to get customers through the buyer's journey and turn them into fans.
Some UX design strategies stand the test of time but are easy to overlook because of their simplicity. Here are five evergreen UX design ideas you shouldn't forget as you focus on updating your website:
1. KNOW YOUR UVP
In order to convince consumers or business owners about the viability of your product or service, you must know your unique value proposition (UVP). Think about what problem you're solving for the customer (what is their pain point?). Present your UVP as the solution for that issue rather than what the customer can do to you. This might sound like common sense, but you'd be surprised how many brands focus on what they want out of the customer relationship instead of the other way around.
Once you know your UVP, think about the language the customer would best respond to. Spend time researching what keywords they use when hunting for a solution to that problem. For example, if you sell frozen chicken fingers, then your customers might look for a term such as "quick meals at home" to solve the problem of getting dinner on the table fast. Your focus is now on how to solve the problem for the customer of getting dinner ready fast on a busy night.
2. TEST YOUR SITE EARLY AND OFTEN
You know exactly what you want your site to do, but that doesn't always translate well for users. 
Invest in testing early
 and retest your site often. When you conduct split testing, you find small issues before they become major problems.
Even after your site is built, you should conduct testing from time to time. Make sure the features of your site still meet customer needs. Over time, your customer base may change. The features that worked for your initial customers may not serve the needs of your current ones. A/B testing shows what adjustments you need to make in order to get the best return on investment (ROI) possible for your site.
3. CONSIDER THE OVERALL CUSTOMER EXPERIENCE
Customer experience (CX) and UX go hand in hand. The goal is to turn users into customers, so you want to ensure every aspect of the experience form the minute the person lands on your page until their order is fulfilled is positive. CX includes customer service and even follow-up after the order is completed.
At the same time, a customer can hardly have a good experience if the site is bulky and difficult to use, so UX plays into the overall impression the consumer is left with. Focus on every small aspect of building good CX and UX at the same time.
4. SPEED THINGS UP
Speed still matters to the overall user experience and perhaps more than ever before. Around 
53 percent of people visiting a mobile landing page
 leave if the page takes more than three seconds to load. How fast your website loads makes a huge difference in the overall experience.
There are a few things you can do to ensure your site loads more quickly. Invest in a good hosting plan and talk to your provider about the best ways of speeding up your site. Optimize images so they load quickly on both desktop and mobile. Reduce the number of scripts on your page. Finally, run your site through a checker such as 
Pingdom's speed page test
 so you can see any areas that might hang up your loading speeds and test your site from different locations around the world.
5. PUT MOBILE FIRST
Don't just throw up a separate mobile site, but create a site that adapts to the different size screens of users. This allows you to adapt to changing technology moving forward. Who knows what might come out next? Perhaps a fully functioning watch that lets you also browse the Internet? You'll also save money by integrating your mobile and desktop site. You'll only need to market and drive traffic to one address.
KEEP YOUR UX DESIGN SIMPLE
Even though the basic design strategies above worked in the past and still work today, one good piece of advice is to keep your site as simple as possible. The less clutter you have, the easier it is to focus on the needs of your user and making sure each aspect of your site functions fully and meets the needs of your customers.